This recipe was given to me by my Atlanta friend Connie.
Even though we met and became friends when we were both teenagers and lived in Mobile, Alabama, Connie is a friend of mine from Atlanta. Even when she traveled the world to live in Nairobi, Kenya, I still called Connie my friend from Atlanta. She moved to Atlanta after college and, with the exception of a few years she spent in Africa and a brief stint in Palm Springs, California, Atlanta has been her home for most of the last 30 years.
Connie is a gourmet, foodie, lover and connoisseur of gourmet food and drink. She is known for going to great lengths and traveling long distances to experience the best of the best of the best. From skimpy mountaineering in her youth to the most luxurious transportation in her old age, Connie has traveled the world to beautiful, secluded places of unparalleled beauty and delicious cuisine.
Her true passion is finding unspoiled, uninhabited places and traveling with those she loves. Somehow, no matter how far or inaccessible her goal may be, Connie manages to have something special, like a magnum (or two) of La Grande Dame, waiting and more.
Nothing short of cooking, Connie is also an accomplished chef, restaurateur and sommelier. She's a tiny little powerhouse of a person who takes no shit, says it all and dares anyone to underestimate her. She may be only 5 feet tall and look like a strong gust of wind could knock her over, but make no mistake, my friend is strength.
Connie began cooking professionally in Atlanta as a personal chef under her business name Spoon, but became part owner of the Kosmos restaurant, for which she created the menu and served as chef. This snapper recipe originated in her home kitchen, but it has become a menu staple and a favorite among customers at Kosmos. You can substitute for any freshly caught, soft, wild fish, but red snapper is very hard to beat.
Like her booming hometown of Atlanta, Connie has a frenetic, exciting energy. If she doesn't work hard, she plays hard, always keeping her finger firmly on the pulse of all the current "best". Connie knows the flow Best restaurant and can get a reservation; she knows Best where to go right now; and she knows a few Best wines for the current season or even for your current mood. She's on it; she did it. Enjoy not having to make any decisions, in fact, let her order for you too. Relax, you are in safe hands.
Connie introduced me to the art of pampering and taking care of myself when we were in our early 20s, pampering me with a few "innovations": my first massage and facial, my first spa weekend getaway, my first bottle of Verve. Clicquot, as well as my first multi-course gourmet dinner with wine, just to name a few.
---
Want more great cooking recipes? Subscribe to the Salon Food The Bite newsletter.
---
From her I learned table setting and hospitality etiquette, trying to absorb everything I could about food and wine. Thanks to Connie, I can still explain to anyone who wants to listen that champagne can only be called "champagne" if it comes from the Champagne region in France, namely from the city of Reims or Epernay.
I can go on and on because I am the queen of French champagne minutiae. Although I have not retained as much practical kitchen knowledge as I would like, I clearly understand the difference between champagne with a capital "C" and champagne with a lowercase "c". And I think of Connie every time I open a pretty bottle.
Connie was the first to introduce me to sushi and rafting. She was also the reason that I went to Africa, which was literally the trip of a lifetime, where I got to know amazingly beautiful places that I could not even dream of existing. Connie made me my first martini and the best carrot ginger soup I've ever had. Without a doubt, she played an integral role in my life and had a hand in who I am today. She taught me how to cook with confidence, how to welcome guests graciously, and how to be generous.
What a fateful day it was when we met as kids some 40+ years ago! None of us could have imagined the winding paths our lives would take, or what each of us would look like at our age now. I was lucky enough to call her my friend, and I am immensely happy to share this recipe.
Like all my favorite summer meals, this recipe requires very little prep and baking time.
Like all my favorite summer meals, this recipe requires very little prep and baking time. I usually only cook for two. So, I bake fish in my toaster, which is very handy when we're in the middle of another abnormal heat with three-digit heat indices. (In that case, I might have to leave the oven off until October!)
Because banana salsa also cooks quickly and doesn't need to be marinated for long, you can actually cook it all up in no time. In the summer where I live, there is a lot of perch, but for this recipe, choose any fresh, hard, soft fish.
If you're so inclined and would like to step into Connie's world (which I highly recommend!), here's something to try. Find the prettiest spot (outside with a great view if possible), get out your fanciest champagne glasses, invite your favorite friend over and crack open a bottle of cold French champagne (Verve Clicquot will do!). A toast to friendship, the beauty around you, and the delicious nectar of the gods that you have been blessed to drink. Laugh together, be poetic, share with each other the difficulties you face.
It's a bust – and downright frivolous – but two friends spending time for each other in our now busy, busy world is cause for celebration in itself. There you are! Here's Connie! To your health!
A note about red snapper
The accompaniment steals the show in this dish that marks another successful red snapper season.
In Alabama, the red snapper season begins on the last Friday in May or the first Friday in June and continues for four consecutive days until mid-August. Florida will add 12 extra days to the season this fall.
Rarely found north of the Carolinas and mostly in the Gulf of Mexico. It is a delightful, robust, lean, soft fish that lives at depths ranging from 30 to over 600 feet.
***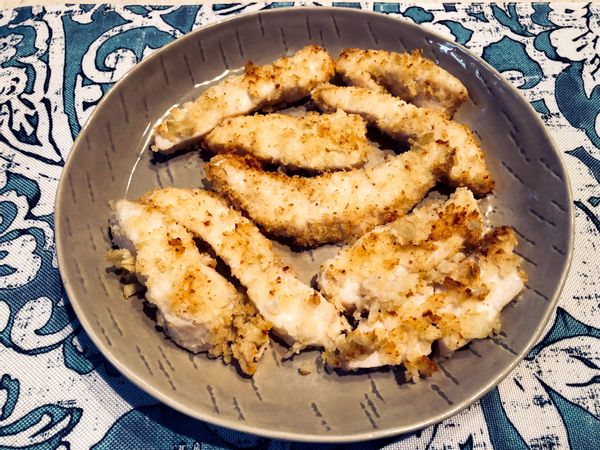 Snapper Fingers (Courtesy of Bebe Hutchings)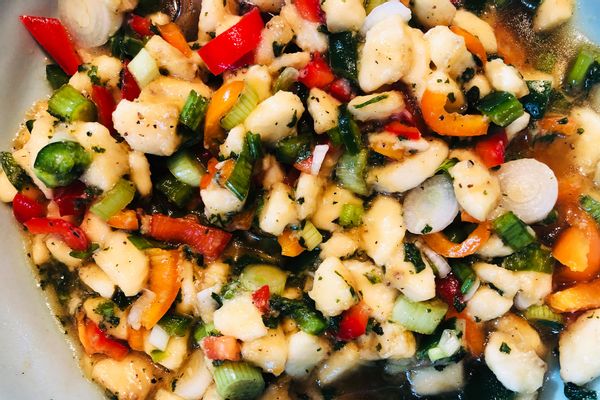 Banana Salsa (Courtesy of Bebe Hutchings)
Snapper Fingers Banana Salsa Connie
Ingredients
Snapper Fingers
1 1/2 cups plain potato chips, evenly and thoroughly chopped

1/4 cup grated pecorino romano or parmesan cheese

1 pound red snapper fillet, cut into strips

1/4 cup milk
banana salsa
2 medium ripe bananas, chopped

1 cup mixed yellow, red and/or green bell peppers, chopped

3 green onions, chopped

1 tablespoon fresh cilantro, chopped

2 tablespoons light brown sugar

1-2 fresh limes

1 tablespoon avocado or grapeseed oil

Salt and pepper

Optional: 1 small jalapeno pepper, de-seeded and chopped
Directions
Preheat oven to 400 degrees.

First, prepare the salsa by combining all salsa ingredients in a small bowl. Cover and refrigerate for at least 3 hours. (see chef's note)

Then mix the crushed potato chips and cheese in a shallow bowl.

Pour milk into a separate shallow bowl.

Place the fish in the milk, then remove, piece by piece, and roll in the potato chip mixture, placing each piece in a single layer on a greased baking sheet.

Bake for about 10 minutes or until the fish is at your desired doneness.

Serve with banana salsa.
---
Cook's Notes
If you don't have avocado or grapeseed oil, use any neutral flavored salad oil.
I made this salsa and left it to marinate just for the time it took me to cook and serve the fish. If you have time to do it earlier, do it, but it's still good if you do it closer to your deadline.
Salon Food writes about things we think you'll love. The salon has partnerships, so we can get a share of the income from your purchase.