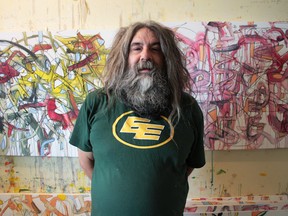 Reviews and recommendations are unbiased and products are selected independently. Postmedia may earn an affiliate commission from purchases made through links on this page.
The content of the article
Inside a dense nest of hundreds of framed canvases on the walls and in thick vertical stacks on the floor, local visual artist Tim Rechner paints at night while most of us sleep and dream.
The content of the article
Notice he's not completely alone in his studio downtown across from Oil Lamp and Winspear. Music always keeps him company.
The content of the article
"My friend gave me his collection of old CDs because now they are all in his computer," says the 44-year-old with medieval blacksmith hair and a thick beard, often topped with large sunglasses inside and out.
Rechner looks and actually is a musician, and lists Interpol, The Strokes, Sigur Rós and Low as some of the bands playing on repeat as he created his latest wave of complex, colorful impressionist abstractions in oil paint and graphite.
In addition to curating the walls of the Metro Cinema gallery, Rechner also plays drums for the indie band Electricity for Everyone, whose new album comes out November 4th. without a serious philosophical stretch. DJ Gulzar from CJSR will also be playing the tunes.
The content of the article
There is a musical element to Rechner's paintings, as if he were rolling giant fly paper posters to the wall and somehow picking up the sound – maybe metal, maybe jazz. But always in a frozen moment of swirling, twitching motion. You can both hear them and see them, even if it's just an echo of the brushes.
The new show by Rechner, a prolific artist, is modestly titled The Secret Formula.
"It's about my process," says the artist, who graduated from NASCAD in 2000. — And basically at the exhibition I will describe my process step by step.
"The novelty of this work is that I use rags to draw marks on wet paint and create shapes that look like snakes or zigzags. Also, lately in my paintings there is usually more white space, more breathing space.
The content of the article
"Something I've been aiming to get better at is using effective compositional space."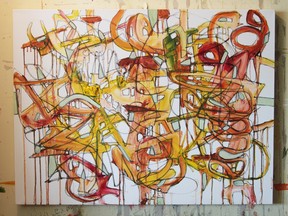 In addition to dozens of solo and group exhibitions in Edmonton over the past 22 years, Rechner's hypnotic doodles have been shown in Mexico, Miami, Montreal, Vancouver, and he held a residency in Barcelona, ​​where he was amazed by local street art.
About a decade ago, he also painted with Lucy, an elephant he visited last week.
"I saw her from afar," he says. "And I don't think she recognized me. I was there at the zoo to celebrate my niece's first birthday. So cute."
While Rechner is represented by the Scott Gallery at 124 Street, he is allowed to roam, including The Aviary and The Artists in the Fallow group show at Brighton Block on Jasper Avenue last summer, which featured two exhibitions spread across five floors of art showcasing around 50 local artists.
The content of the article
"It was great as an art mall," notes Rechner.
There's a funny thing about most art discoveries in that not only are there usually no entry fees, they also tend to feed you snacks and wine. The secret formula, though, is $10 up front, $15 in.
"I kind of explain to the people I invite that visual art is usually free outside of the Alberta Art Gallery. But yes, I have to pay for my views," he says, referring to the DJ and the hermit crab.
"It's members Gary Debussy and this guy Dave Wall," he says of the band. "Ambient, improvisation, kind of math," he explains in a way that some of his paintings can be described. – It's going to be a fun night.
At the exit, we return to his art in general, which he will do while he lives. "I'm still going to energy. We are talking about instincts, dynamic color combinations and the like.
"They are not that different. But this is evolution."
@fisheyefoto
PREVIEW
Tim Rechner: Secret Formula, with DJ Gulzar and Hermit Crab
When: Opening at 19:00 from Thursday to 6 October.
Where: Aviary, 9314 pr. 111
Tickets: $10 at the-aviary.net, $15 entry.