The United States has announced that it will send an anti-aircraft system known as VAMPIRE to Ukraine as part of its latest military aid package.
On August 24, Ukraine's Independence Day, the Pentagon announced that it would supply the country with almost $3 billion worth of equipment and ammunition to fight the Russian invasion.
Among the largest tranche of security assistance to Ukraine the US has sent to date is an unspecified amount of anti-aircraft systems called Vehicle-Agnostic Modular Palletized ISR Rocket Equipment, or VAMPIRE, a representative of L3 Harris, a technology company and defense contractor. , confirmed Newsweek.
A fact sheet on the L3Harris website describes VAMPIRE as a modular system that provides "precision strike capability" such as laser-guided surface-to-air munitions.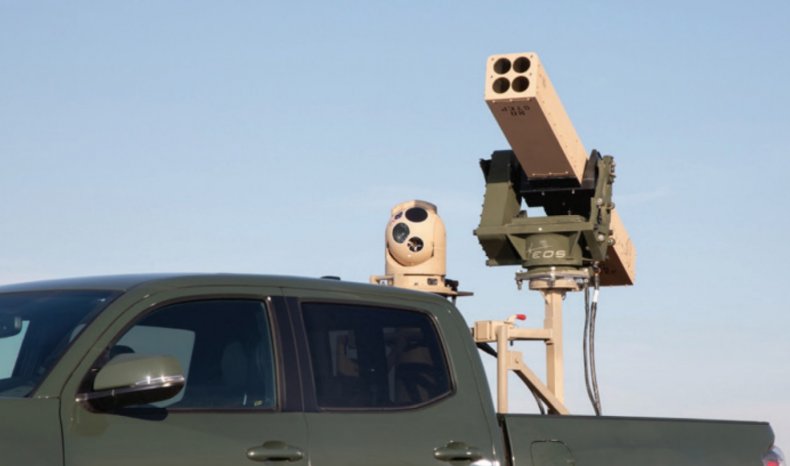 In addition to being able to target drones and other unmanned aerial vehicles, VAMPIRE is designed to engage a variety of targets, including for use in the ground-to-ground role.
Like the High Mobility Artillery Rocket Systems (HIMARS) that the US also sent to Ukraine, VAMPIRE can be mounted on non-tactical vehicles such as pickup trucks.
L3 Harris stated that they "supported the Ukrainian Ministry of Defense for several years."
"Since the beginning of the current conflict, our advanced tactical radios and reliable SATCOM terminals have enabled the Ukrainian military to transmit critical information, while our night vision and electro-optical capabilities have enabled the Ukrainian military to track enemy forces and better plan both overall strategies and tactical actions." , the representative said.
"Our VAMPIRE system provides the Ukrainian armed forces with even more robust capabilities as they continue to defend their country and democracy in Europe, and we will continue to provide our unwavering support to their mission."
During a press briefing on Wednesday, U.S. Under Secretary of Defense for Policy Dr. Colin Kahl confirmed that VAMPIRE is a counter-UAV system that will be used during the war in Ukraine.
"It's a kinetic system, it uses small missiles to shoot UAVs out of the sky," Kahl said.
The latest infusion of military aid now means the US has sent more than $13.5 billion in security aid to Ukraine since January 2021. In addition to VAMPIRE, the latest $3 billion package will also include:
Six additional National Advanced Air Defense Missile Systems (NASAMS) with additional munitions for NASAMS.
Up to 245,000 rounds of 155 mm artillery ammunition
Ammunition up to 65,000 rounds of 120-mm mortars
Up to 24 counter-artillery radars
Puma Unmanned Aircraft Systems (UAS) and Scan Eagle UAS Support Equipment
Missile systems with laser guidance
Funding for training, maintenance and support
In a statement on Wednesday, President Joe Biden said the military assistance would enable Ukraine to "acquire air defense systems, artillery systems and munitions, anti-aircraft systems and radars so that it can continue to defend itself in the long term."